Last weekend, 1N5 hosted the 2nd Annual Youth Mental Health Innovation Challenge at Cincinnati Children's Hospital Medical Center, Burnett Campus. In this two-day workshop-style event, multiple teams of high-school and college students worked in groups of five to create, develop, and present creative solutions to intentional mental health challenge prompts. These prompts were designed to make students think outside the box in order to arrive at useful and practical solutions for today's youth.
This year, 50 high school and college students, along with 30 community mentors participated in the event. Students and mentors were prepared for the task at hand by keynote speaker, Tom Merrill, from Xavier University and Meriden McGraw.  Tom facilitated the design process, along with his graduate students, while Meridian spoke on giving an effective pitch and presentation. Each team presented their innovative concepts to a panel of expert judges that included Dr. Michael Sorter, Mary Martin, Steve Martin, Stacey Hoffman, and Tricia Buchert.
Each winning team was awarded grant funding to materialize their projects. There were four $1,000 winning teams and one $5,000 winning team. See the winning teams listed below.
The $5,000 winning team, "Positive Pandas" presented on T.A.P.E (The Active Platform for Empathy). This project is geared toward educators that were not given mental health training. T.A.P.E. has three facets: a virtual reality experience, a reflection process, and a toolbox for educators. The virtual reality allows teachers to understand what students may be experiencing with their mental health. The reflection portion helps reduce stigma around mental health, and a toolbox of mental health necessities would be provided for educators to implement their new training into their students' lives.
Over the next year, 1N5 will meet with each winning team on a monthly basis to take their concept from pitch to reality.
$5k Winning Team – Positive Pandas: Darian Robinson (LaSalle HS); Brooke Brigadoi (UC College of Nursing); Ruku Pal (Miami)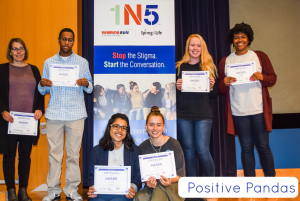 $1,000 Winning Team – The Feels: Emelia Stricker (Beechwood HS); Alida Flores (Madison Consolidated HS); Danielle Gerth (Taylor); Taylor Friend (Xavier)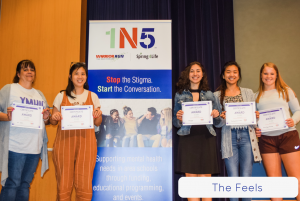 $1,000 Winning Team – Conversation Creators: Cassidy James (Seton) Diya Joshi (Mason HS); Ellie Forman (Sycamore HS); Alicia Luo (Sycamore HS); Sarah Cowperthwait (UC); Karman Ghuman (UC)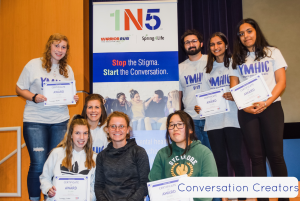 $1,000 Winning Team – Vulnerable Vigilantes : Stephanie Schaller (Mt. Notre Dame HS); Laura Melink (Ursuline Academy); Katie Johnson (Ursuline Academy); Katie Good (Univ of Michigan); Kelsey Kraft (Xavier)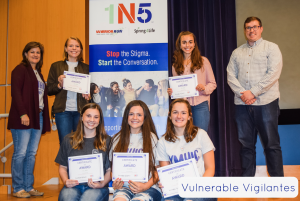 $1,000 Winning Team – Mequalizers: Leah McCall (Mercy McAuley HS) Mattie Flynn (Mercy McAuley HS); Anna Riedel (Mercy McAuley HS); Preetham Kastury (OSU); Natalie Martinez (UC College of Medicine)