On Wednesday, September 11th, 1N5 attended the Mason Community Conversations on mental health. The event centered on stress and distress and drew a crowd of approximately 50 community members, and it was live streamed on Facebook.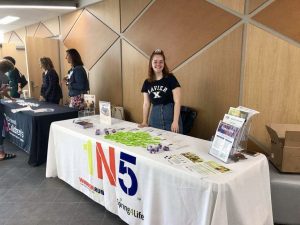 Dr. Sorter, the Director of the Division of Child and Adolescent Psychiatry at Cincinnati Children's Hospital Medical Center, along with Dr. Slavin, MD, MEd, spoke about adolescent brain development. They also discussed the academic model and its impact on youth mental health.
1N5 participated in the event to provide resources and information for attendees, as well as to engage with members of the Mason School District.