Join the Movement.
Help increase awareness and education about mental health issues.
---
Help us start the conversation and stop the stigma. The Warrior Run includes a 5K Run/Walk, 1 Mile Walk, Kids' Fun Run, great food, music, and carnival-style kids' games.  You can even participate virtually if you prefer. All proceeds benefit 1N5.
October 14, 2023
5:15 pm (1 Mile) and 5:30 pm (5K)
Dogwood Park in Mariemont (both courses start and finish here)
Corner of Wooster Pike and Pleasant Street
Cincinnati, Ohio 45227
Early Bird Registration through 9/10/2023 (5K: $35; 1 Mile: $25)
Regular Registration: 9/11/23-10/7/23 (5K: $40; 1 Mile: $30)
Late Registration: 10/8/23-10/14/23 (5K: $50; 1 Mile: $35) *online registration closes 10/13/23 @ 6pm; in person registration is available day of race
Student Registrations: $10
The family-oriented fundraiser benefits Cincinnati Children's Hospital Medical Center's (CCHMC) Adapt For Life program plus local in-school mental health programs. Make it a night—enjoy a beautiful setting, a scenic run/walk through Mariemont, great food, music, and carnival-style kids games. Don't miss the fun!
If you cannot participate in the run/walk but want to support 1N5 consider volunteering or donating using the buttons below.
School Challenge: The Warrior Run is excited to offer this unique opportunity for you and your school team to raise funding for mental health programming in your school! Schools compete against each other to win the Challenge.  There is a School Division (K-12) and a College Division.  Information
Individual and Corporate Team Challenge: Create a team page, recruit members and start fundraising today!  Team Challenge prizes will be given for (1) the team that raises the most money and, (2) the team that has the most members. Create your team HERE.
---
Register Online   Donate  Volunteer
Mail-in Registration Form can be found HERE.
---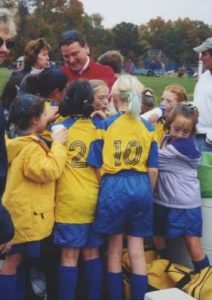 The Jim Miller Memorial Mile was started in October 2008 by a group of Jim's friends to commemorate his life. Jim Miller was a life-long Mariemont resident.
Jim Miller began his running career in high school at Mariemont, running track as an individual and on the cross-country team. He made Ohio's all-state team as an individual in 1975 and also as part of Mariemont's cross-country team, and was a member of a relay race team that held a longstanding record at the school. Jim was inducted into the Mariemont High School Hall of Fame in 1980.
Jim attended Mariemont High School and then Bowling Green University. He and his wife Nancy moved to the Village Of Mariemont in 1991. Jim coached Mariemont Recreational Track from 1998 – 2001 and he coach recreational soccer from 1994 – 2005 coaching his daughters Elizabeth and Kate. He also served on the Mariemont Soccer and Pool boards. Jim worked at Xavier University for 25 years in the role of Director of Gallagher Student Center and advised the Student Government Association.
In July 2008, we lost Jim to suicide. He was an amazing man who helped so many others. In order to honor his spirit, we partnered with Cincinnati Children's Hospital Medical Center to raise money for their suicide prevention program.  In 2014, we also began working with a number of area universities and high schools and were able to start mental health programs in all five major universities and three area high schools. Our dream is that we can expand those programs and add additional schools going forward.
Take the first step, get involved