What is better than supporting 1N5 and patronizing LOCAL establishments?  Doing both at the same time!!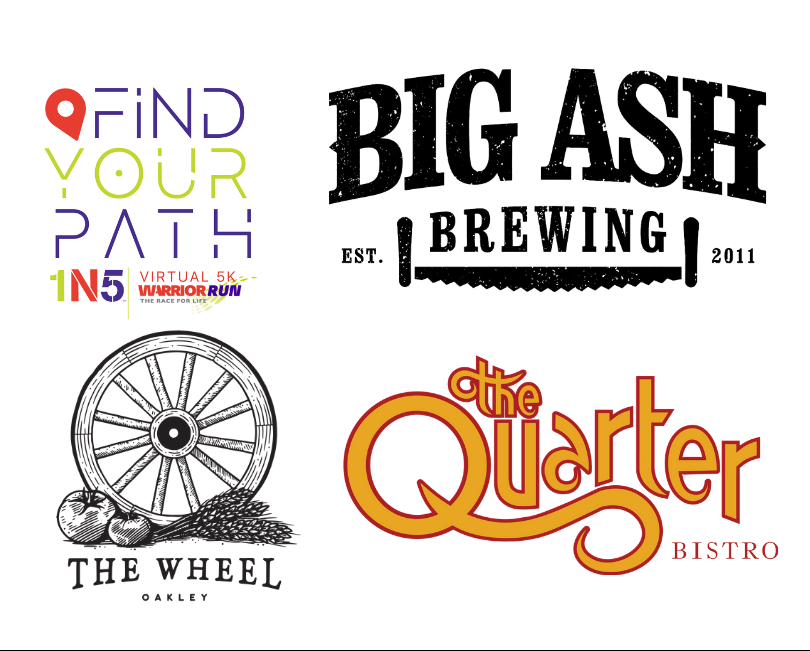 A big part of the Warrior Run is the food and camaraderie at the after-party and we have the perfect solution for this year's race: WARRIOR MEALS!  The Virtual Warrior Run is taking place Saturday, 9/26 through Saturday, 10/10 and we've teamed up with 3 local restaurants so that you can have a small gathering either in the restaurant or with carry out meals shared in the comfort of your home.    Big Ash Brewing, The Wheel and The Quarter Bistro have partnered with 1N5 to offer Warrior Meals on the three weekends of the run.  Whether you want to have a pre-run carb load or post-run party with your family or with a few friends, consider dining in or ordering carryout from any (or all) of the following 1N5/Warrior Run supporters.
Big Ash Brewing (5230 Beechmont Avenue, Cincinnati, OH 45230 – 513.401.6868) will kick off the race on 9/26 with carryout Warrior Meal specials.  They will be available during the dates of the Warrior Run (9/26/20 – 10/10/20). Order online here and use the code 1N5WR at checkout to get the special and support 1N5. Big Ash will be offering the following:
Warrior Meal Pizza & Beer Bundle for 2 ($30)

One signature pizza
One Signature Salad
One Howler (32oz) with any of Big Ash's award winning brews

Warrior Meal Pizza & Beer Bundle for 4 ($50)

2 signature pizzas
1 signature salad
One Growler (64oz) with any of Big Ash's award winning brews
The Wheel (3805 Brotherton Road, Cincinnati, OH 45209 – 513.271.0291) will have their Warrior Meal available on Monday, October 5th. You can place your order 11 am – 6pm, Wednesday through Saturday by calling 513.271.0291 or via email at thewheeloakley@gmail.com.
Menu for Monday 10/5/20
Pick up 12-3 pm
Local lettuces salad, beets, quark, lemon – $7
Pulled pork sandwich on focaccia, bbq aioli, pickled onion, shredded lettuce – $11
Heirloom tomato sandwich on focaccia, pepperonata, lettuces, cheddar – $11
Iced sugar cookies 2 for – $2.5
The Quarter Bistro (6904 Wooster Pike, Cincinnati, OH 45227 – 513.271.5400) is offering their Warrior Meals 10/7 – 10/11 (Wed – Sun).  $5 of each meal and $2 from each menu specialty cocktail will be donated to 1N5.  You must let The Quarter know that you are participating in the 1N5 fundraiser to take part in the Warrior Meal special.  To make a reservation, call 513.271.5400 or via their website: www.quarterbistrocincy.com.
$47 per person/per meal
Choice of 1 soup or small salad
Choice of 1 menu entree
Choice of 1 menu dessert
A portion of the proceeds from all meals purchased will benefit 1N5.