School
Programs for Mental Health
Schools create a customized solution for their student-bodies' mental health needs. 
---
After diligent research on mental health programs around the country, we created a comprehensive, evidence-based program guide offering more than 16 different evidence-based prevention, intervention, and postvention programs. Based on the expert opinions of mental health professionals, the programs have proven success rates. In order to serve the vastly different needs of each student and student body, we work closely with administrators to provide — and fund — the appropriate program(s) for their students.
Program goals include educating students on the signs, symptoms, action steps, and resources for mental illness and crisis intervention while also working to improve students' level of knowledge and efficacy to cope with and receive help for mental, emotional, and social stressors that may contribute to mental distress.

Overview
 We partner directly with schools with the intent to normalize mental health and break down the barriers preventing our youth from seeking help.
Because every school is unique, there is not a one-size-fits-all model. We work with administrators, counselors, and teachers to create a customized solution for each school's mental health needs. We utilize programming models that have proven successful in existing Partner Schools, coupled with our experience in the field to build each unique program.
Our goal is to equip Partner Schools with the necessary tools to implement a progression of mental health programming that becomes embedded into their school culture. The parameters of the funding for the school are that funds must be used for new mental health education programming that impacts the entire student body, programming must be referred to as mental health education, and funds cannot be used to cover existing programs. Funds may cover a needs assessment, program development, and program implementation for the school.
Evidence-based Programs Offered
For a detailed description of each program offered, check out our Resources pages.
Signs of Suicide
Sources of Strength
Sources of Strength Screening
Bring Change 2 Mind
Adapting for Life
Classroom Mental Health
Social & Emotional Programming (SEL)
Break Free From Depression
More than Sad
QPR Training
Kognito
Go Noodle
MindUp
Start with Hello
Jason Foundation
SERA Collaborative

Sampling of Specific School Programs
---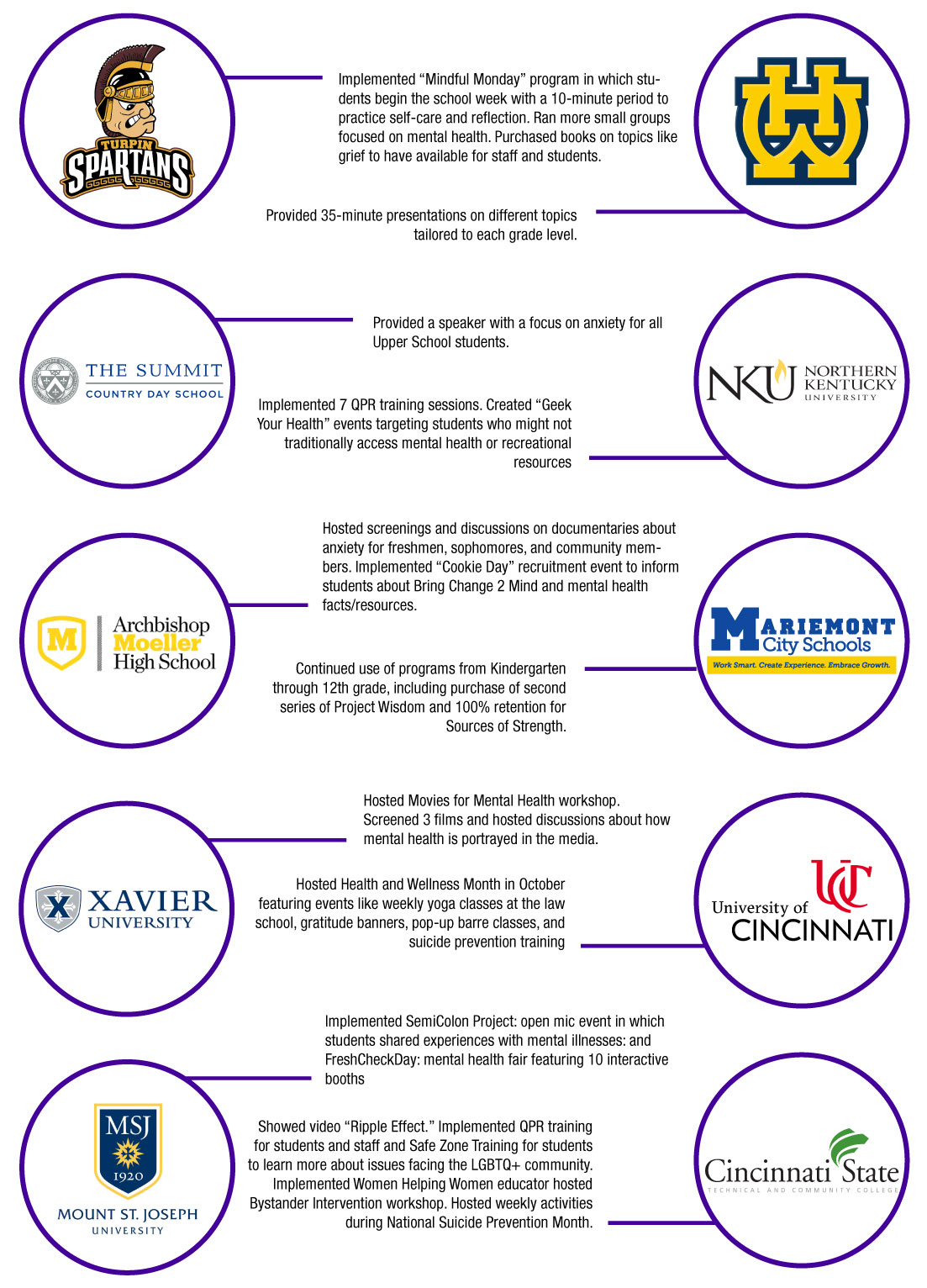 ---